Muscle Museum - CD 1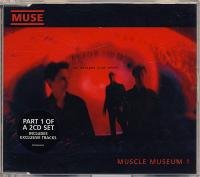 Track Listing:
Muscle Museum (Album version)
Do We Need This?
Muscle Museum (Live Acoustic)
Total Tracks: 3
Released:
22nd November 1999 Correct
Cat :
MUSH66CDS
Information
Muse's third single. 3" CD set in plastic disc.
CD1 of 2, this CD contains the old track "Do We Need This?"
Contribute to this text.
---