Absolution - Tour DVD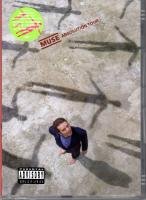 Track Listing:
Hysteria
New Born
Sing for Absolution
Muscle Museum
Apocalypse Please
Ruled by Secrecy
Sunburn
Butterflies & Hurricanes
Bliss
Time Is Running Out
Plug In Baby
Blackout
Total Tracks: 12
Released:
12th December 2005 Correct
Cat :
5101118972
Information
Live tour DVD presentig the live Show of the band at Glastonbury festival in the year 2004. The DVD also contains as Extra Tracks the songs:

Fury (Los Angeles)
The Small Print (Earls Court)
Stockholm Syndrome (Earls Court)
The groove in the States (Cincinnati/San Diego)
Plus the Absolution's B side-Bonus track "Fury" Live in Los Angeles
Also as "Easter eggs" (Hidden tracks) the songs "Thoughts of a Dying atheist" and "Endlessly" Both live at Wembley Arena. "Falling away with you" Is the only Absolution song not to appear in this DVD.
Contribute to this text.
---