Resistance - CD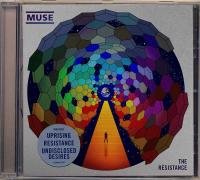 Track Listing:
Uprising
Resistance
Undisclosed Desires
United States of Eurasia (+Collateral Damage)
Guiding Light
Unnatural Selection
MK Ultra
I Belong to You
Exogenesis : Symphony Part I
Exogenesis : Symphony Part II
Exogenesis : Symphony Part III
Total Tracks: 11
Released: 14th September 2009
Cat : WEAC268

Information
Muse's fifth album "The Resistance" was released in the UK on 14th September 2009. Alongside the standard CD format, the expected CD/DVD Digipak also hit the shelves following in the footsteps of previous albums. Also released was a limited edition box set containing LPs and a special MUSE 2GB memory stick.
The album was released earlier in some countries leading to leaking. However the album still shot straight to UK #1 earning platinum status.
However, this was the first Muse album to not contain a bonus track in Japan.
Contribute to this text.
---