Muscle Museum - EP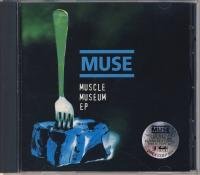 Track Listing:
Muscle Museum
Sober
Uno
Unintended
Instant Messenger
(Muscle Museum) 2
Total Tracks: 6
Released: 11th January 1999
Cat : DREX CDEP104

Information
The first glimpse of Muse's new direction, with the introduction of Muscle Museum. "Instant Messenger" would later be renamed to Pink Ego Box. Some CD-Rs were made at the Sawmill recording studio before the release of the EP. Promo CD-Rs with a coloured sleeve were also made by Motor in Germany, although the EP itself was never released there. The EP was a limited & hand numbered edition (999). Unnumbered editions were issued to radio stations and journalists. Numbered CDs were sold at local stores and at concerts. Matthew Bellamy handed the receptionist at BBC Radio 1's studio a copy of the EP, telling him or her to give it to DJ Steve Lamacq. It came a surprise to both Bellamy and Christopher Wolstenholme to hear it played by Lamacq a few months later. After its airing on Lamacq's show, Muse ended up in indie charts after the CDs sold out in shops.
Contribute to this text.
---