Absolution - CD + DVD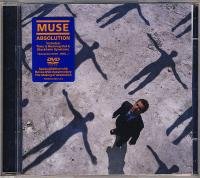 Track Listing:
Intro
Apocalypse Please
Time Is Running Out
Sing for Absolution
Stockholm Syndrome
Falling Away With You
Interlude
Hysteria
Blackout
Butterflies & Hurricanes
The Small Print
Endlessly
Thoughts of a Dying Atheist
Ruled by Secrecy
(+BONUS DOCUMENTARY DVD)
Total Tracks: 15
Released:
22nd September 2003 Correct
Cat :
5050466-8547-2-8
Information
Limited Edition album with bonus Documentary DVD. Has a different cover to the other releases.
The first pressing has a mistake in the tracklisting. Track 7 is said to be Hysreria and Track 8 is Interlude, but it's actually the other way round.
Contribute to this text.
---