Origin of Symmetry - Unmastered Promo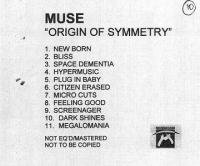 Track Listing:
New Born
Bliss
Space Dementia
Hyper music
Plug In baby
Citizen Erased
Micro Cuts
Feeling Good
Screenager
Dark Shines
Megalomania
Total Tracks: 11
Released:
18th June 2001 Correct
No Catalog Number
Information
A promo containing unmastered tracks, with beeping sounds every few minutes to indicate the CD is a press preview copy. This CD also features the early tracklisting for Origin of Symmetry with Darkshines, Screenager and Feeling Good in different positions.
Contribute to this text.
---