Showbiz - 12" Vinyl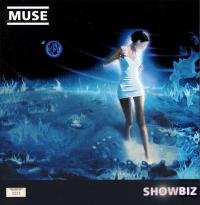 Track Listing:
Sunburn
Muscle Museum
Fillip
Falling Down
Cave
Showbiz
Unintended
Uno
Sober
Escape
Overdue
Hate This & I'll Love You
Total Tracks: 12
Released: 4th October 1999
Cat : MUSH59LP

Information
The Showbiz 12" Clear Vinyl is the most valuable Muse vinyl record. Limited to 3000 numbered prints, this item comes complete with 2 beautiful clear wax 12" discs, and is presented in a gatefold picture sleeve.
This item in mint condition is very valuable. You can slightly increase the value of this item by having it in the custom 12" pvc carrier bag, given away with the original release of this item. If yours is missing you can find one on ebay quite regularly, costing around £10.
The vinyl was re-released in 2009 in America, devaluing the original slightly. The re-issue can be picked up for less then a quater of the price, but is still collectable.
Contribute to this text.
---