H.A.A.R.P. - CD + DVD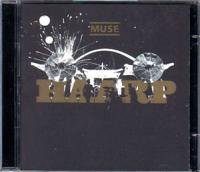 Track Listing:
Intro
Knights of Cydonia
Hysteria
Supermassive Black Hole
Map of the Problematique
Butterflies & Hurricanes
Invincible
Starlight
Time Is Running Out
New Born
Unintended
Micro Cuts
Stockholm Syndrome
Take a Bow
Total Tracks: 14
Released:
17th March 2008 Correct
Cat :
HEL3007
Information
Live CD + DVD Album. The CD includes Live versions of previous released studio albums recorded Live at Wembley Stadium, London 16 June 2007. The DVD Includes Live video versions recorded the same date.
The CD+DVD set can still be found on music Shops around the globe, unlike the versions of the absolution tour (dvd) and de hullabaloo (dvd) wich were limited editions.
Contribute to this text.
---